Cecabank donates €97,000 to 14 social and environmental projects through the "Tú Eliges" programme
29 November 2021
The 7th edition of the programme highlights once again the commitment of the institution and its employees to social and environmental actions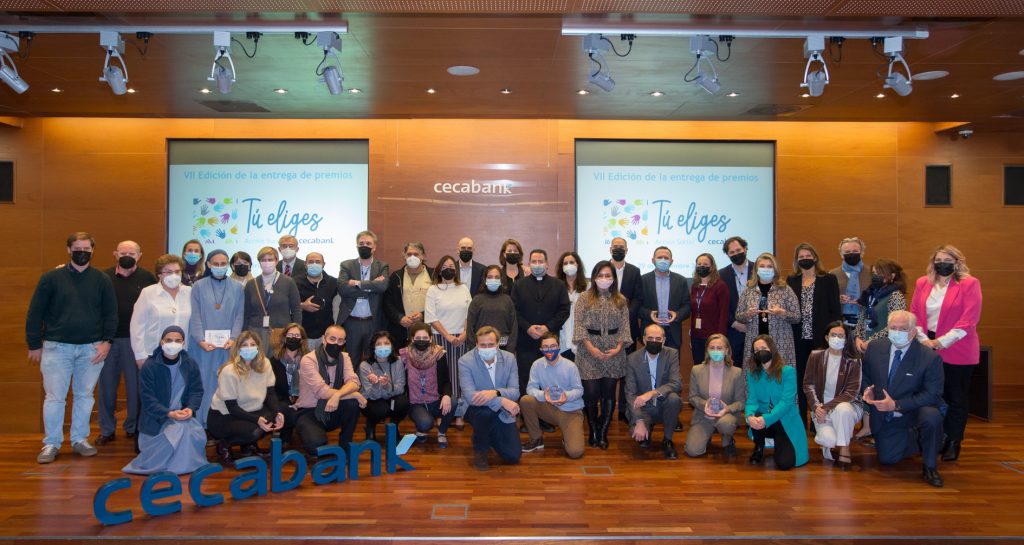 Cecabank rewards with an endowment of €97,000 the 14 most voted projects in the 7th edition of its "Tú Eliges" programme, an internal solidarity initiative in which the bank's employees propose collaborations with different non-profit organisations. This programme illustrates Cecabank's commitment, and that of all its professionals, to its Social Action Plan through its collaboration with projects designed to improve social well-being.
The programme is done through a virtual platform and in two phases. In the first phase, Cecabank employees can present the cultural, social or environmental projects they would like to support and, in the second phase, all employees receive 100 virtual coins to distribute among the initiatives they find the most interesting.
A total of 19 projects were presented in this, the seventh edition of the "Tú Eliges" programme, and 14 of them, three environmental and eleven social projects, were awarded prizes; the most voted initiative was the Aleph-Tea Independent Life Project, proposed by the ALEPH-TEA association. Today, as part of Cecabank's Solidarity Day, the awards ceremony for associations and foundations was held in the bank's auditorium.
This year, "Tú Eliges" was a finalist in the category of best internal awareness campaign at the 12th Corresponsables Awards. In the words of Juan Carlos López, Head of Sustainability and Stakeholder Relations at Cecabank: "Corporate social responsibility is and has always been a priority for Cecabank. The 'Tú Eliges' programme, which is part of our Social Action Plan that is embedded in our Sustainability Policy, enables staff to support social, cultural and environmental associations, which reinforces our commitment to the Global Compact and the Sustainable Development Goals".
During the Solidarity Day, the traditional Solidarity Market was also organised, to which "friendly" associations and foundations, participants in other editions of "Tú Eliges", were invited. In addition, a Spanish Red Cross blood donation centre has been set up for all the institution's employees.
Photography exhibition 24th Luis Valtueña Award
As a novelty, and thanks to Cecabank's membership of the Emergency Committee of Doctors of the World, the photographic exhibition resulting from the 24th Luis Valtueña Award has been on display, an award that seeks to denounce all types of violations of people's rights while also recognising the highest quality photojournalism.
The exhibition, on display in Cecabank's lobby, consists of 50 contemporary photographs and an audiovisual from the five series selected by the award's jury.