Cecabank, winner of the Fundación Integra award in the social projects category
1 December 2021
56 prizes have recognised the commitment of companies that they are part of the network Commitment Integrates, with a common key: to support the social and occupational integration of people in situations of severe social exclusion and people with disabilities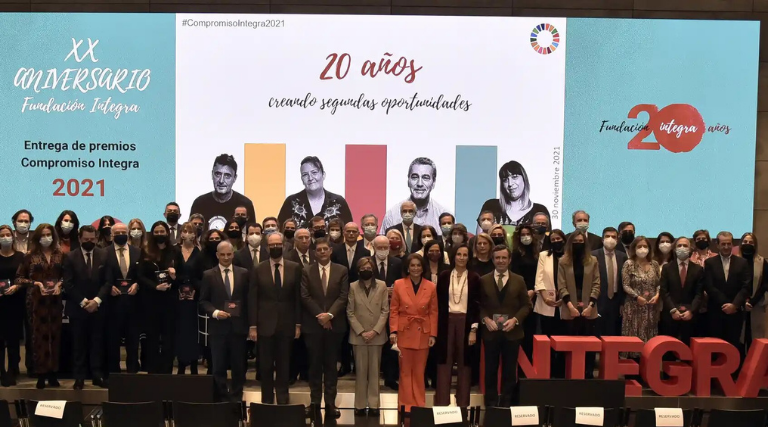 11 in the morning of yesterday. Hundreds of people cheerfully gathered at the Caser Auditorium in Madrid. Balloons floated on the brightly lit stage with written words summarising the key messages of the event we attended: employment, life, hope...
"It has a festive atmosphere, we are celebrating our 20th anniversary, we want to celebrate our annual awards", explained the organisers of the Fundación Integra awards, an organisation which, since 2001, has managed to generate more than 17,700 jobs.
More than two hundred executives gathered for an awards ceremony held this year under the theme 20 years of second chances, as a gesture of recognition from this non-profit initiative to companies that have committed themselves to diversity and social transformation, using employment to avoid the exclusion of victims of violence, people who have left behind drugs, those who have been able to leave prison or the street, among other vulnerable groups.
The Chairwoman of Fundación CEOE, Fátima Báñez, opened the event with her words of congratulations. She was followed by the founder and chairwoman of Fundación Integra, Ana Botella, and the CEO of Grupo Caser, Ignacio Eyriés.
Botella thanked all the companies for their support, especially the patrons - who met just before the event - who were among the first, two decades ago, to offer socially responsible employment. "I asked them to integrate 2 people a year and 20 years later, some of these companies are integrating more than 300", she recalled.
In addition to the projection of very moving videos with photographs spanning the last two decades, on stage there were interviews with some of the beneficiaries of the programme. Authentic life stories that retraced the first contact with the foundation, the difficulties of the participants' pasts and which, inevitably, gave way to moments of great complicity.
This was the case, for example, with the conversation between Manuel Jesús Murciano, Corporate Director of the Human Resources Division of the Eulen Group, and a person integrated through Integra. Or the interview with Alexandra Brandao, Global Director of Human Resources at Banco Santander.
Yesterday's event was closed by Alfredo Timermans del Olmo, Deputy Head of Employment of the Regional Government of Madrid. The winners are grouped into four categories: Integration Awards, Volunteerism Awards, Social Projects Awards and Awards for the commitment of the Foundation's patrons.
Integration Awards
Bankinter, Compass Group, Educare, El Corte Inglés, Eysa, Ferrovial, Gesvalt, Grupo CTC, Leroy Merlin, Limpiezas y Servicios Salamanca, OHLA, Sacyr, Sagital and Samsic.
Volunteerism Awards
Banco Santander, Capgemini, Garrigues, Iberdrola, Línea Directa and Repsol and its Foundation.
Social Projects Awards
Altamira, Bluecap, Cecabank, Fundación Aon, Fundación Áurea, Fundación Caser, Mary Kay, Globant, La Caixa and its Foundation, Mutua Madrileña, Sareb, UBS, Via Célere and Zelenza.
Awards for the commitment of patrons
Acciona, Grupo ACS, ALSA, Grupo Barceló, Carrefour and Fundación Solidaridad Carrefour, Cofares, Grupo Eulen, Endesa and its Foundation, Iberia, Indra, Palladium Hotel Group, PUIG, UFV and Urbaser.