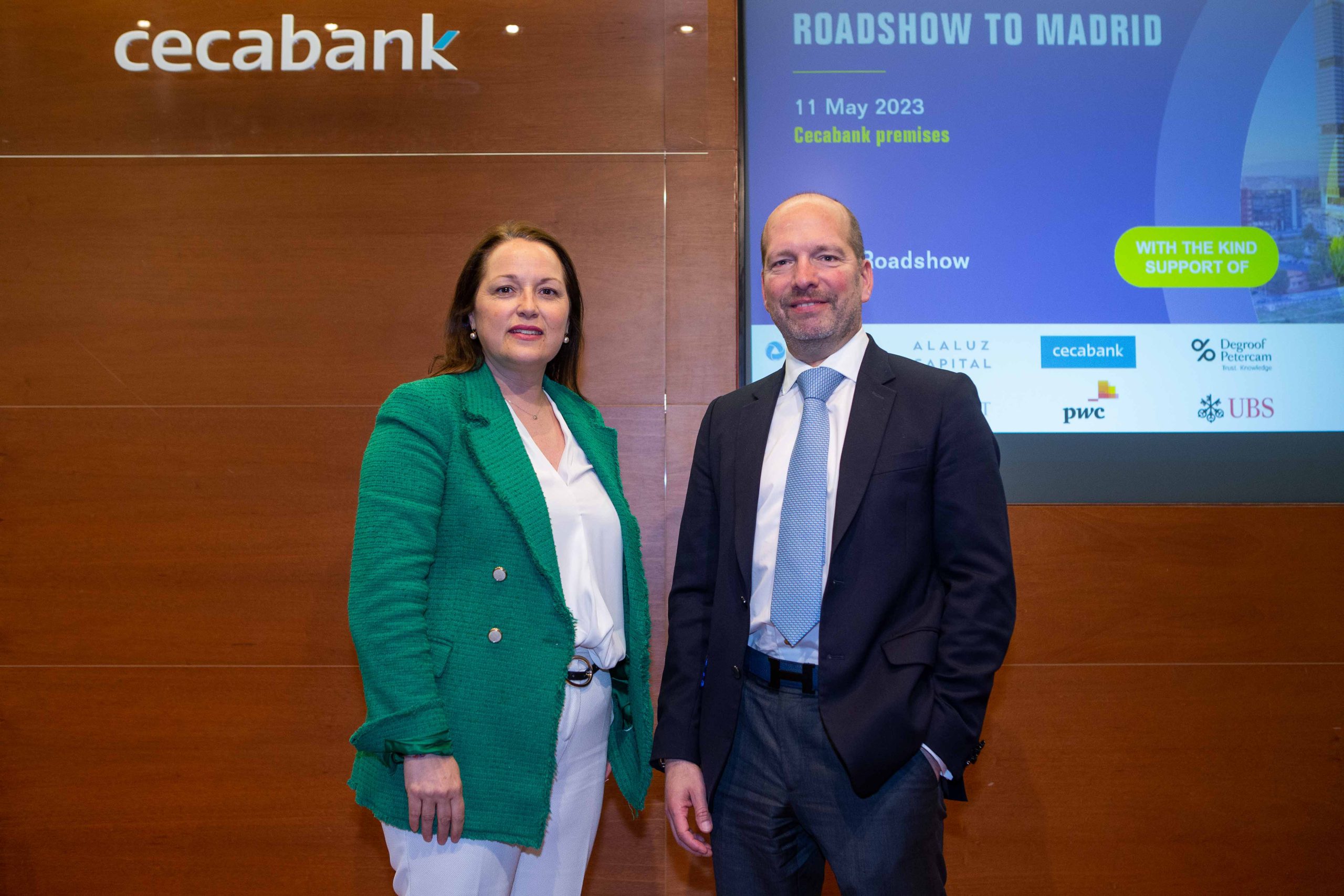 Once again this year, Cecabank hosted the roadshow of the Association of the Luxembourg Fund Industry (ALFI), with the participation of prominent national and international experts
The meeting provided another opportunity to analyse the interconnection of the Spanish and Luxembourg fund industries in their international expansion and to address regulatory developments in the democratisation of alternative funds, long-term investment funds and ESG criteria
MADRID, 11 MAY 2023.- For the second consecutive year, Cecabank hosted the Association of the Luxembourg Fund Industry (ALFI) roadshow at its headquarters in Madrid, the mission of which is to promote the Luxembourg investment fund industry internationally and to brief local fund specialists on the challenges and opportunities offered by the country in terms of asset management and distribution.
Luxembourg is home to more funds than any other European country and is the world leader in cross-border fund distribution. ALFI represents the private and conventional investment fund community in Luxembourg and is a leading promoter of sustainable investment in the European country. ALFI's mission is to lead the industry's efforts to provide solutions that address the demands of investors and to establish Luxembourg as an innovative international investment fund centre.
Cecabank is the benchmark custodian bank for Securities Services in Spain and Portugal, providing post trading services for marketable securities and financial instruments such as depositary, registry, custody, clearing and settlement services. This leading position is based on in-depth knowledge and expertise in custody and depositary services. In addition, Cecabank maintains levels of solvency that are significantly higher than the legal requirements and the market average, enhancing customer confidence. Last year the bank closed the financial year with a CET1 solvency ratio of 30.8%, one of the highest in the system.
Cecabank is an independent and neutral partner, a service platform for any financial and non-financial institution. In addition, it has a presence in the main European financial markets, providing it with an international dimension and enabling it to enhance the services it offers outside of Spain. Cecabank is present in the United Kingdom, Portugal and Germany through its branch in Lisbon and its offices in London and Frankfurt, with the dual purpose of accompanying its customers during their international expansion and extending Cecabank's services to entities outside Spain.
Regulatory developments in ELTIF and ESG criteria, trends in asset management
Jean-Marc Goy, Vice-Chairperson of ALFI, welcoming the participants to the session, said: "I would like to highlight the good relations, the connection and the mutually beneficial exchange between Spain and Luxembourg, which also extends to the activities of the financial sector and investment funds. Spain, a renowned sophisticated market, has been for many years and continues to be a focus for the Luxembourg asset management community".
During the meeting, a distinguished group of experts discussed the importance of increasing synergies between Spain and Luxembourg. The latest regulatory developments concerning European long term investment funds (ELTIF) and the new EU regulation on sustainable finance disclosure (SFDR), which aims to encourage capital flows towards efforts that promote and enable a more sustainable economy, were among the other main topics discussed. The meeting also featured a practical panel on how to set up a fund in Luxembourg through five key issues addressed from different commercial perspectives.
The event, held in person at Cecabank's headquarters in Madrid, brought together more than 200 attendees from over 150 institutions, with the participation of representatives from ALFI, the Embassy of Luxembourg, Arendt & Medernach, CaixaBank Asset Management Luxembourg, Pictet Asset Services, BNP Paribas, Adepa Global Services, Van Campen Liem, Ernst & Young, Beka Credit, Edmond de Rothschild, ABN AMRO Investment Solutions, BBVA Asset Management, PwC and Cecabank.
According to H.E. Christian Biever, Ambassador of the Grand Duchy of Luxembourg in Spain, "our country is the ideal gateway to the European fund market because of its geographical location, experience, stability and current legal framework. I trust that this conference has served to illustrate this reality, as well as to further strengthen the economic relationship between our countries, already united by strong political and historical ties.
Aurora Cuadros, Corporate Director of Securities Services at Cecabank, has stressed that "Cecabank is a neutral partner, a services platform, for any financial and non-financial institution. In particular, in Securities Services we are the market leader in the depositary market in Spain and Portugal, and we are one of the main players in securities custody and settlement". To which she added: "Cecabank is present in the main European markets. Our international presence fulfils the dual purpose of extending Cecabank's services to institutions outside Spain, as well as for conducting a relentless search for trends and needs that are emerging in our industry. In this regard, contact with Luxembourg, the leading cross-border centre for investment funds and the largest wealth management centre in the euro area, is essential to learn about the latest developments in the finance industry and the international and proactive approach that its authorities and regulators have adopted in favour of the community we represent".