3 July 2018
Cecabank held its 3rd Solidarity Day yesterday.The social assistance of the "Tú Eliges" programme, an initiative in which employees participate by proposing collaboration with different organisations, were handed out. This year, Euros 100,000 was donated to twelve charity projects chosen from the proposals submitted. Over the past four years, 31 charity projects have benefited from the "Tú Eliges" programme, with donations of more than Euros 282,000.
At the beginning of the day, Antonio Romero Mora, Cecabank's Corporate Manager of Associate Services, Audit and Resources, explained that "our social action policy, which is part of our CSR Plan, seeks to encourage the active participation of all our employees. The aim is for them to identify with it and feel proud to work here".
Meanwhile, more than 80% of employees participated in the Fourth edition of the "Tú Eliges" programme. The programme functions using a virtual platform. It is divided into two phases. To start with, Cecabank employees are invited to submit their proposals for the social, cultural and environmental categories. To do this, they can provide videos, presentations or information on their chosen association. During the second phase, employees receive 100 virtual coins to distribute among the charitable projects they like best. This year, 32 programmes were submitted. From these, twelve winning organisations were selected (see chart below).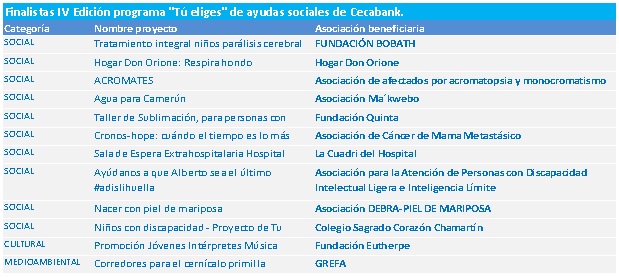 Support to the Food Bank
Last May, Cecabank renewed its sponsorship of "Calle Cecabank".It is located at Madrid's central Food Bank and Cecabank has sponsored it since its creation in 2012. This donation of €6,000 contributes to maintaining the structure of this organisation.
The Madrid Food Bank is a non-profit charity. Its purpose is to obtain food to distribute free of charge to organisations throughout the Community of Madrid. so it can continue to distribute more than 20 million kilos of food and help nearly 600 social organisations every year, which helps approximately 200,000 people. This work is possible thanks to the work of more than 400 volunteers, which include former Cecabank employees.
This means that having a "Street" at the Madrid Food Bank is like having a shelf to store food. The Bank then distributes these items free of charge to numerous charities. These organisations are recognised by the Community of Madrid and help those most in need.
Cecabank also sponsors the "Avenida Cecabank" [Cecabank avenue] at its warehouse in Alcalá de Henares. It has donated unused computer equipment on several occasions and is involved in coordinating "Operación Kilo" [kilo operation] every year to enable Cecabank employees to donate food to the Food Bank. Since 2015, Cecabank has donated a total of 4,300 kilos of food, equivalent to about 9,000 euros in basic necessities.
As a result of this collaboration, the board of the Madrid Food Bank Foundation gave an award in the Companies category to Cecabank in 2017 for its financial and food contributions.
Collaboration with the Emergency Committee
Finally, this year Cecabank joined the Emergency Committee as a collaborating organisation. The signing of this agreement means the bank joining a network of companies that have been added to the Emergency Committee such as Atresmedia, Atrevia, Carat, Mediaset, Orange and Prisa, among others, to offer extensive coverage and public presence in appeals to collect funds in serious humanitarian crisis.
This agreement represents Cecabank's commitment to raise awareness among its employees and inform them of the need for help and collaboration in these situations. An example of this is the earthquake in Haiti, which killed 220,000 people, as is Typhoon Haiyan in the Philippines, which claimed the lives of 10,000 people.